The night before xmas I needed to print something in 3D, so I started 4 months in advance because my Monoprice Mini Select V2 is sooo slow.
Printing the Train Set
While looking for more things to put into my daughter's Finding Place (from Amazon's Tumble Leaf show) I found a model in Microsoft's 3D Builder from the now defunct Remix 3D (which Microsoft mysteriously killed off).
I noted that the printed models fit perfectly into the wooden train track set we already had! Instead of buying nice hand-made wooden train track sets for $60, I could print cheapo, plastic ones for $0.06. For a 2-year-old, they're perfect. The tradeoff was that it took a long, long, long time. I'll post pictures around 2030 when all the parts are finished printing.
The tracks took a few hours per piece to print but they came out nicely. The files are available for download below.
Update
After hunting around I found that a similar (same?) train model is accessible now via the new Paint 3D app.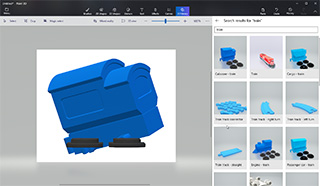 Paint 3D